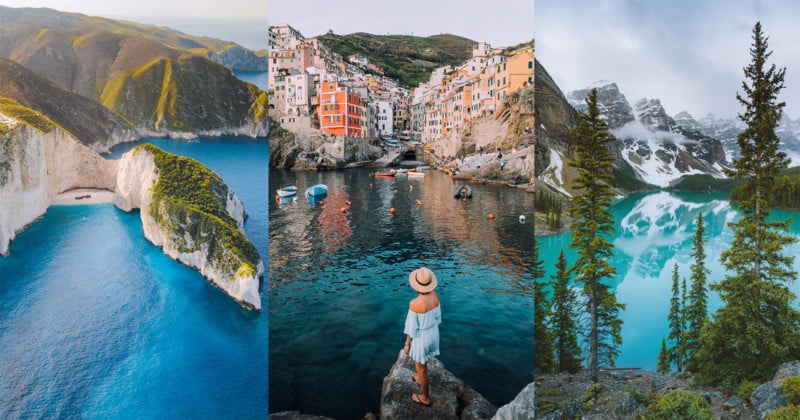 Travel Photographer and Pelican Pro Chris Poplawski and his fellow photographer wife Meagan Bourne have visited countless countries in search of solitude and beauty. Throughout their adventures, the couple has visited everywhere from the rocky shores of Kauai to the lush scenery of the Faroe Islands, documenting the landscapes and culture that make these destinations special.
Poplawski and Bourne have seen it all, and share exclusively with PetaPixel seven locations every travel photographer should visit at least once in their life.
---
Full disclosure: This article was brought to you by Pelican
---
Kauai, Hawaii
While most visitors to the island chain that sits 2,000 miles southwest of California come to relax on the beach, those that do miss out on the real diverse beauty of the Hawaiian Islands which is on full display on Kauai. Sharp mountain peaks, deep valleys, jagged cliffs, and stunning waterfalls all greet photographers who make the trek to the northernmost island in the chain.
"Kauai is a dream location for us," says Bourne. "We love aerial photography and being in the ocean with our waterproof housing, and Kauai is the perfect location for both. We highly recommend taking a helicopter ride off Na'pali Coast, as it's easy to get incredible images at any time of day or in any weather, although late afternoon is the prime time."
"Every time we return to Kauai, we always find something new and unique," she continues. "There are countless hikes that lead to photo worthy locations, but sometimes our favorite images come from the hike itself as you might find yourself walking along a trail overlooking a sheer cliff with the waves crashing hundreds of feet below."
"For us, Kauai provides such an abundance of photography opportunities, but often Chris and I will put the cameras down and just enjoy the quiet, calm and relaxing atmosphere that Kauai provides."
Italy
When people first think of Italy, their imaginations are filled with visions of steaming pasta and full glasses of vino. And while the food and drink of this historic European country are certainly not to be missed, Italy is also an ideal location for photographers.
"I honestly couldn't imagine visiting Italy without Chris," says Bourne. "Italy is just one of those places that we love traveling to together. Even if we never took any photos, there is so much that we love to do. We are avid coffee lovers, so it's always fun for us to see how many coffee shops we can visit in a day. And of course, after a long day of shooting, it's nice to unwind with an incredible meal and a gelato dessert."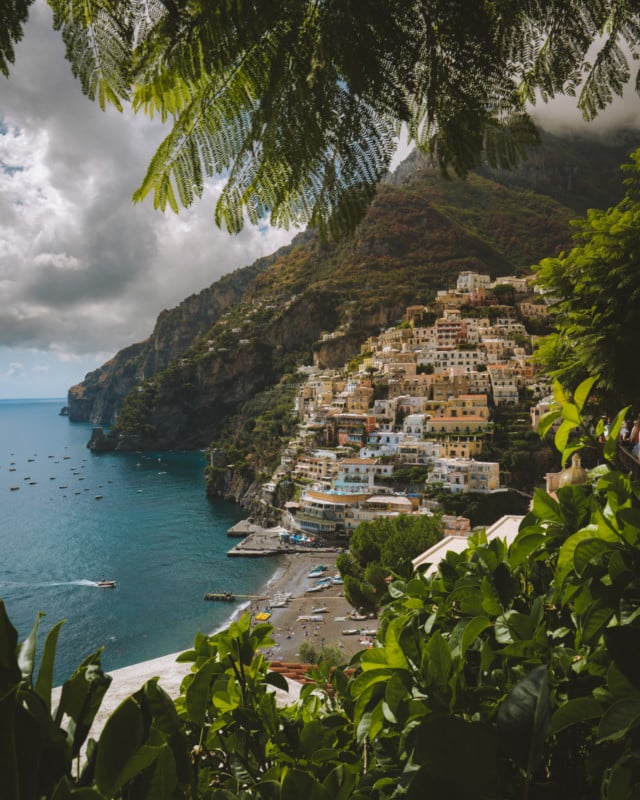 "When we do eventually put down the fork, there is so much to photograph," she continues. "The wine country in Tuscany is always stunning, especially when you get high on a hill and photograph the low sun as it lights up the green vineyards.
"Along the Amalfi Coast, you have these towns with these beautiful, bright buildings built into the rocky shores along the coastlines. Venice, while overwhelming and quite touristy, still is worth exploring with your camera. And we couldn't explain our love for photography in Italy without mentioning Madonna della Corona, a beautiful church built into the side of Mount Baldo, near the town of Verona.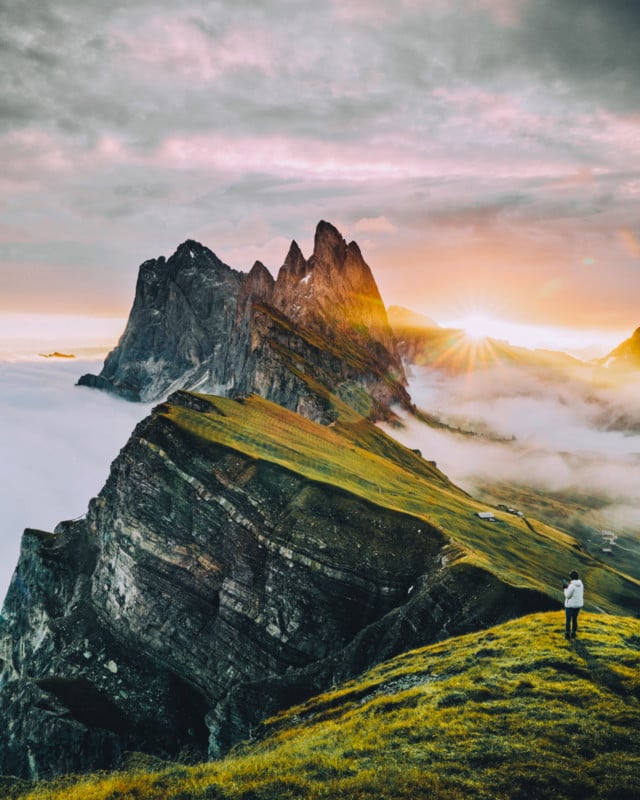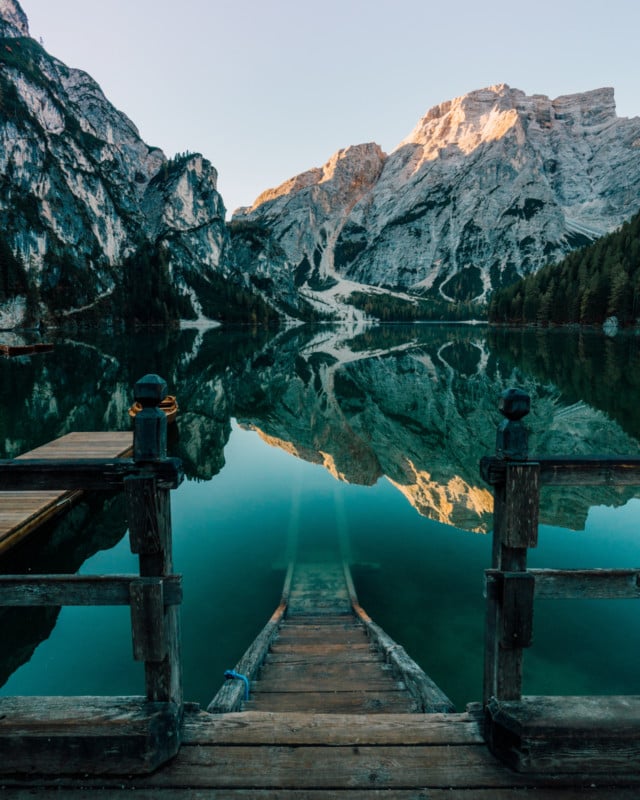 "When you have had enough history and pasta, you can travel to the Dolomite mountains," Bourne recommends.
"You can't really put the experience that the Dolomites provide into words. It is easily some of the most beautiful scenery we have ever seen. You can never bring enough memory cards to the Dolomites. Even the hikes will have you stopping every thirty seconds to get another photo. I think the best advice we could give for when traveling to Italy is that you should always wake up very early. In the famous Lago di Braies in the Dolomites, the best photo is right when the sun peaks and lights up the mountains behind the lake. In general though, all of Italy is at its finest in the early morning, before the country fully wakes up from its pasta and wine induced slumber."
Faroe Islands
While Iceland wins the popularity contest when it comes to Nordic photography, the Faroe Islands provide endless opportunities to capture moody and vibrant landscape images. Located 200 miles north of Scotland and halfway between Iceland and Norway, the Faroe Islands have a unique landscape in a laid-back setting.
"We have been to the Faroe Islands six times now, and I can't ever imagine it not being our annual adventure," Poplawski says. "I have heard it called 'Iceland's little sister' and while size wise, Iceland does indeed dwarf Faroe, I find just as many photographic opportunities on this little archipelago. The Faroe Islands are much less visited, leading to more authentic experiences. The landscape makes you feel like you are on another planet and even in bad weather, they provide a drama that translates so well into photographs. It really is a photographer's dream.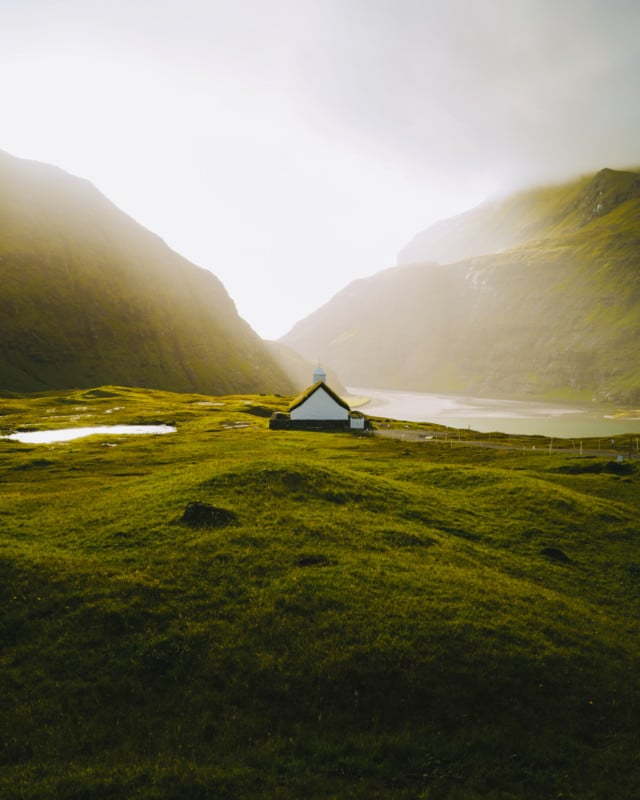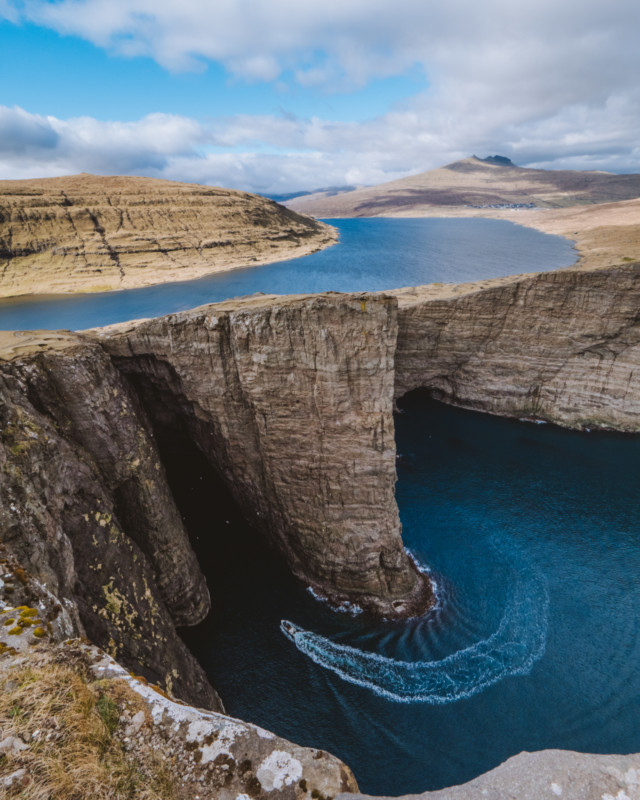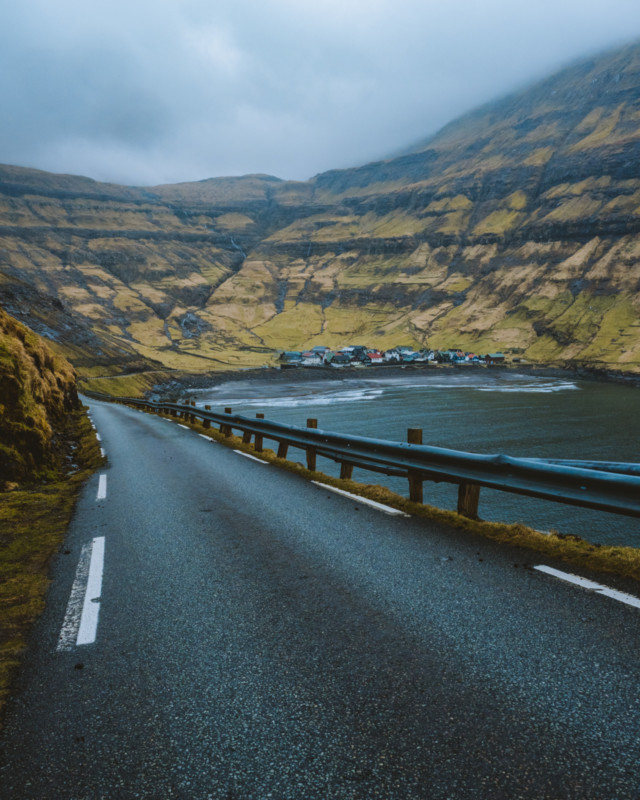 "Even though it's small, the Faroe Islands feels like a road trip destination," he describes. "When you drive you will find yourself stopping the car constantly, as there are so many photo opportunities around every corner. Even if you photographed the same winding road or Nordic cabin the day before, it might look completely different as the weather and the light is constantly changing.
"I really use all of my photography gear when I travel through the Faroe Islands, so I keep my Pelican 1535 Air Case easily accessible, either in the backseat or the trunk. Having all of my gear in the case saves me time when I want to change lenses and get a variety of shots from the same vantage point.
"The TrekPak Case Divider System in the 1535 Air makes my gear easy to organize, so every piece of my photography gear, from cameras to lenses to drones, has its own home. When I see a photo I want to get from the car, I am never frantically trying to remember where I put my wide angle, because I know exactly where it is. Driving through the Faroe Islands, the photography opportunities are non-stop, so it's easy to get lazy. But I value my camera gear, and ultimately, I need it to make a living. So as tempting as it is, I never put a lens in a cup holder or a door pocket, because the 1535 Air is so easy to access, my lenses are always going back to their well-protected home when they are not in use.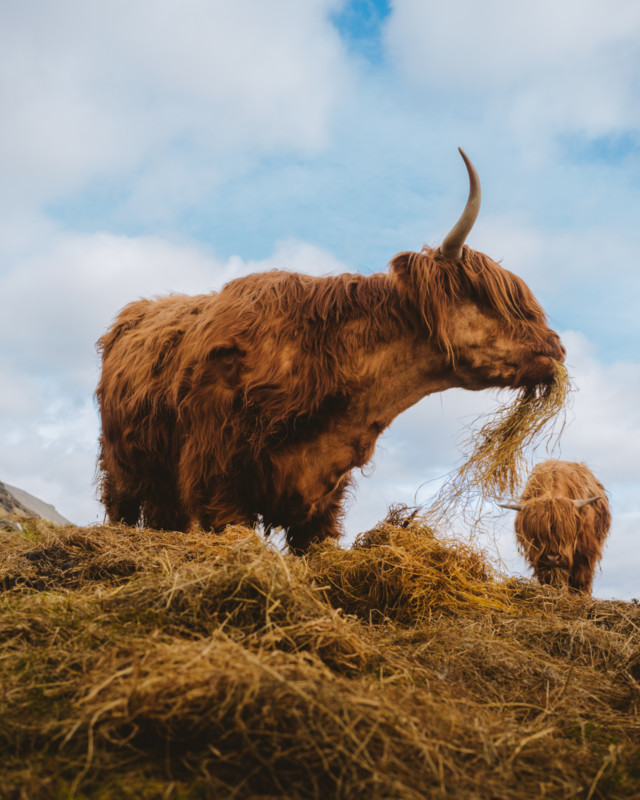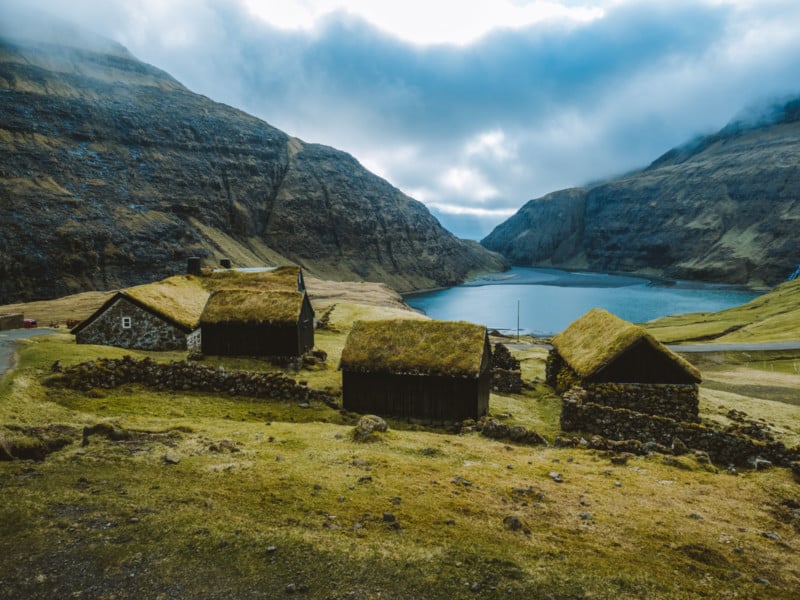 "In the Faroe Islands, the locals and the government really respect the landscapes that make their home so special," Poplawski continues. "This is evident in the annual 'Closed for Maintenance, Open for Voluntourism' campaign. The initiative, led by Visit Faroe Islands, closes almost all hiking trails and tourist attractions across the islands for two full days. They invite both locals and tourists alike to join forces in erecting signs, building viewpoints and creating walking paths to help keep the increased tourism sustainable. As far as I know, no other country does anything like this, and it is just another reminder about how unique and special the Faroe Islands are."
Greece
Rich in history and beauty, Greece is far from off the beaten path for tourists. Even so, the couple returns time and again for a variety of reasons.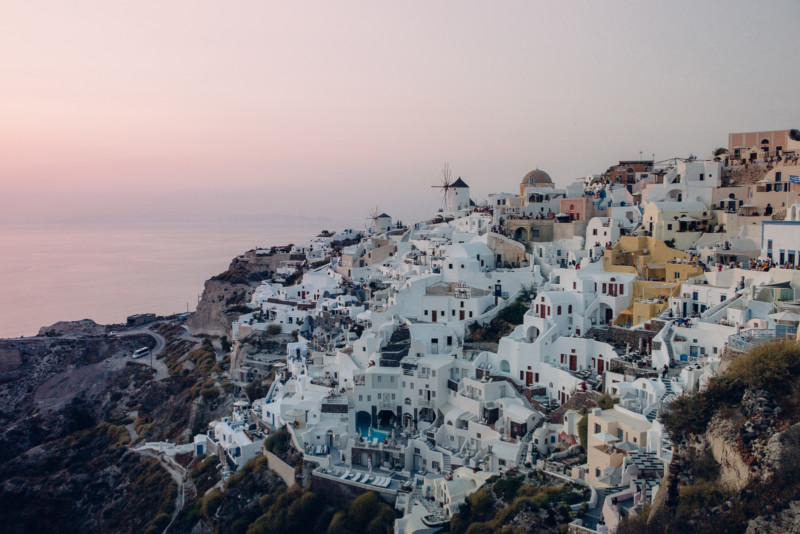 "If Travel and Leisure were a country, it would be Greece," says Bourne. "While Greece isn't off the radar by any means, there is so much to see that, for us, it's worth the crowds. Like Italy, this is another country that we love to travel to together. The food is always delicious and unique, and we have found some of our favorite hotels and Airbnb houses in Greece. There are the usual photography hotspots like Santorini, but there are many places that are far less crowded and just as beautiful. We loved Ios island, which is small, but a great place to explore. The Greek Islands seem like they were made for relaxation. We are so used to driving long distances, hiking, and always being on the go. The Greek Islands are a place where we can just actually enjoy our time, without a schedule or any worries.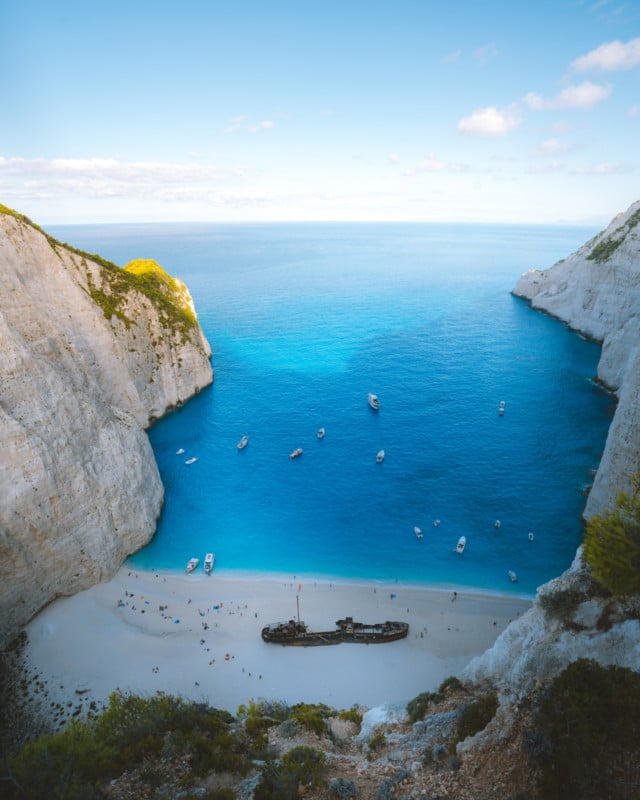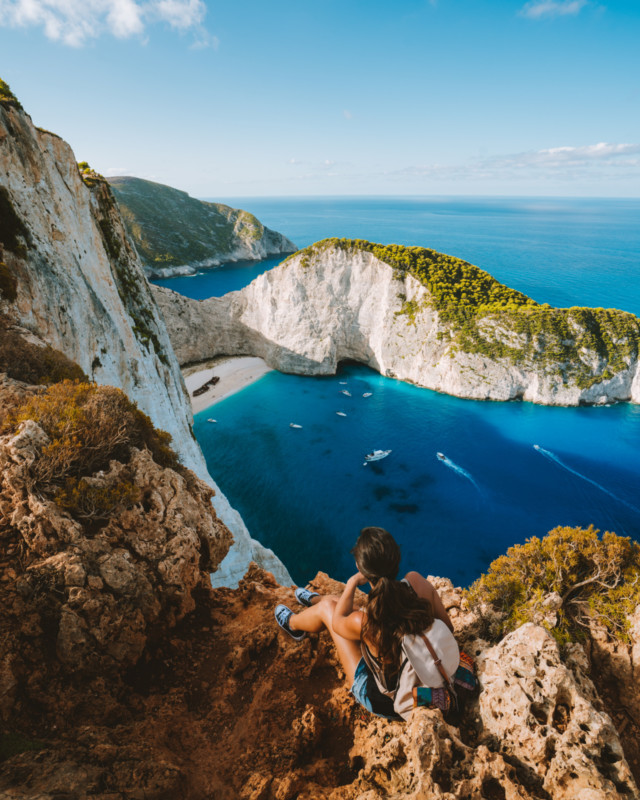 "One of the most photogenic places in all of Greece also has maybe the prettiest beach in the world," she details. "On the island of Zakynthos, Navagio beach sits in this beautiful cove with steep, white cliffs on either side of the remote strip of sand. But the best part is that there is a shipwreck right there on the beach. In October 1980, the MV Panagiotis ran aground in stormy weather, and the government just decided to leave it there. It makes for incredible photographs, especially from the air. There is a company that operates scenic flights over the island and the beach and is a must-do activity if you want to get some great shots of this incredible beach from a unique vantage point."
Banff National Park, Alberta, Canada
The often photographed Banff and Jasper National Parks in Alberta, Canada live up to the hype. While summer here can be too crowded for most, Poplawski and Bourne visit in the shoulder seasons, when the crowds are thinner and the photography is more dramatic.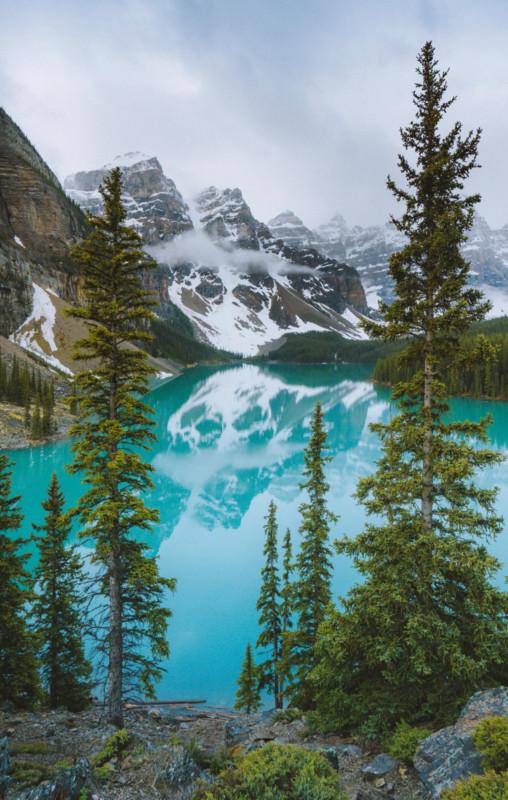 "We have spent a lot of time in Banff, but it is so big, I feel like we haven't even scratched the surface of all of the places to explore," Bourne says. "Banff has really increased in popularity over the last few years, so it's important to follow the rules in order to keep the region sustainable. Make sure to get your permits for any backcountry hiking that you want to do. It is an extra step in the process, but some of the most stunning scenes in Banff lie far from the parking lots. And of course, no trip to Banff is complete without a helicopter tour of the region. This section of the Rocky Mountains is dramatic, and it's best experienced from above."
Joshua Tree National Park, California
While not the most talked-about desert National Park in California, Joshua Tree's close proximity to the dense city of Los Angeles makes it a frequent weekend getaway for Southern California residents.
"Joshua Tree is all about the experience," Poplawski describes. "There are so many unique Airbnb accommodations in the area, from converted Airstreams to the traditional 'desert' house, all within 10 minutes of the National Park entrance. The desert isn't for everyone, but if you are looking for quiet solitude, Joshua Tree is a must-visit. The trees the park is famous for are fascinating, and each one is unique so you always have an abundance of composition options for your photos. But for us, the real magic of Joshua Tree happens after the sun goes down. The Milky Way here is incredible, and using moonlight or artificial light on a Joshua Tree can create engaging astrophotography opportunities."
"There are a lot of great desert hikes in Joshua Tree, and while most are under three miles total, it's important to remember that this is a harsh desert environment," he continues. "We always use GPS apps to track our movements, in the rare case that we get lost, we will know where we came from. This is not the environment that you want to be lost and disoriented in. Bring more water than you think you need. Meagan and I both have our 64oz Pelican water bottles completely full before we embark on any hike, even if it's just for a mile or two. We have learned the hard way that you don't know you are dehydrated until it's too late, so we are constantly drinking water, even when we don't feel thirsty.
"The weather in Joshua Tree is so unpredictable, you might even get a little snow! A couple of years ago, I brought the team from my creative agency, The Untold Narrative, on a retreat to the desert. When we awoke on our first morning, I could barely open the cabin door as the overnight snowfall was so deep. We were all excited, and we raced out into the park and started driving around and capturing photos from all of the main viewpoints.
"I wasn't prepared for such a sensory overload, so I had forgotten to change the almost full SD card in my camera. In my anxious excitement, I dropped my Pelican 0915 Micro Memory Card Case deep in the snow as I attempted to swap out memory cards. I frantically searched for it as the snow continued to fall all around me, and after a couple of seconds, I found it and was happy to find not an ounce of moisture entered the case. I can't count how many times that little case has saved some of my most important images. A lot of the locations we visit are humid, or we are constantly in and around water, and the durability of the Pelican 0915 Micro Memory Card Case has never failed. I have tried countless SD card cases, and I will never use another one other than the Pelican 0915 Micro Memory Card Case."
Alaska
While it is one of the 50 states, Alaska's far distance from the rest of the United States along with its hard-to-access wilderness makes it one of the least visited states in the country. Over 40% of the state's 365 million acres are federally protected, making Alaska one of the most untouched locations in the world.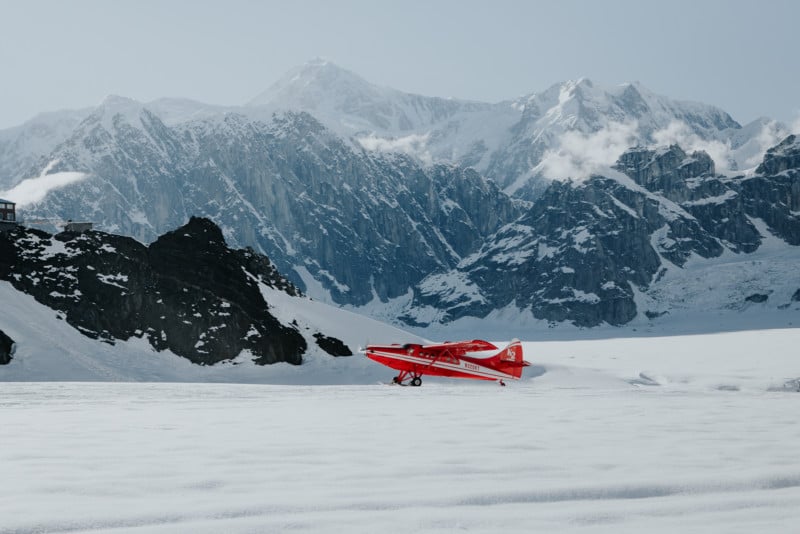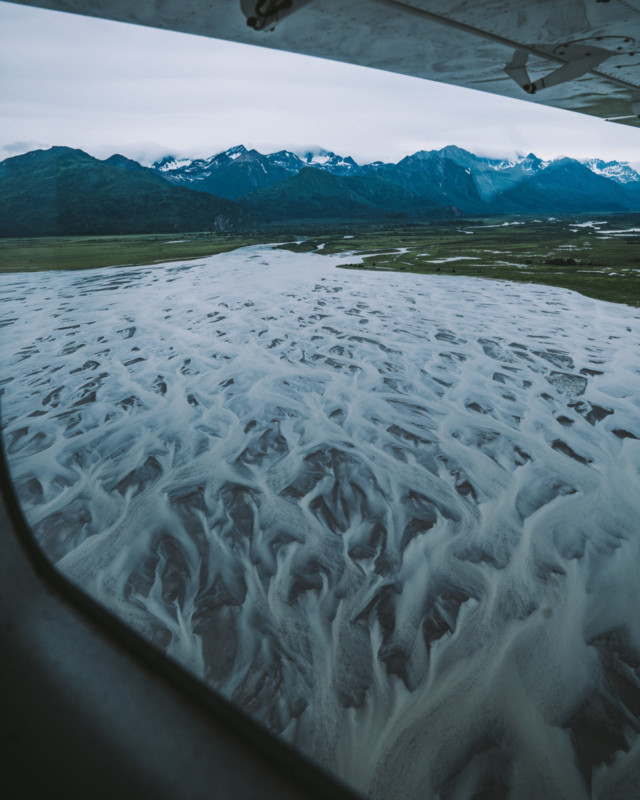 "Even with the increase in outdoor tourism in recent years, there is one place in the United States that still feels untouched," Poplawski says.
"Alaska is nicknamed 'The Last Frontier' for a reason, and even today, the millions of acres of wilderness still remains mostly untouched. On the other side of the coin though, you have to really work for the best views in Alaska. You can't just drive to many of the state's National Parks. Often, you need to hire a private bush plane. But these bush flights yield heart-pounding excitement and incredible views, so make sure you have your camera fully charged and at the ready before you take off.
"These remote corners of Alaska aren't for the faint of heart. You need to be committed and fully respectful of what Mother Nature not only provides, but also what she is capable of unleashing. But if you are up for the challenge, 'The Last Frontier' will wind up being the adventure of a lifetime."
Poplawski describes what it has been like traveling with his photography partner for so many years. "When Meagan and I first started our photography journey together, we were so hyperfocused on getting the 'Instagram' shot. After a while, it almost felt like it started deteriorating our enjoyment of the adventure. Then we realized, to have longevity to be able to do this as a couple, we needed to not be so focused on always getting the shot, so we really started to relax a bit and start living a normal, yet exciting, adventure lifestyle. We started really doing what we loved, like hiking and snowboarding, and started incorporating our photography into our daily life, as opposed to the other way around. Feeling like we were no longer always chasing the photo has done wonders to our mindset and our happiness. Seeing how much our dog Sage enjoys our outdoor adventures with us is always a reminder that the real fun is in the adventure itself, not the photos that come from it. For us, remembering how fortunate we are to live in such an incredible world full of diverse beauty and excitement has not only made our photography better, but our experiences are always getting more enjoyable as well."
More from Chris Poplawski can be found on his website, and Instagram.
More from Meagan Bourne can be found on her website, and Instagram.
---
Full disclosure: This article was brought to you by Pelican
---
Image credits: All photos by Chris Poplawski and Meagan Bourne.