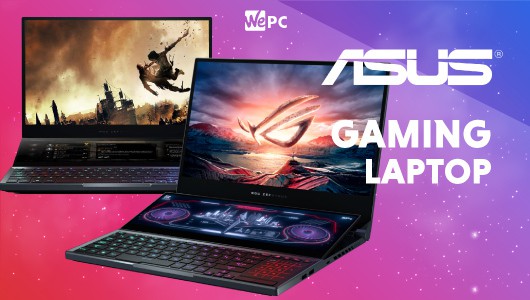 The ASUS Zephyrus S17 is a stonkingly powerful gaming laptop, ideal for those who want a bit more screen to immerse themselves in their games. The 100-140W Nvidia RTX 3080 (16GB VRAM) GPU and Intel Core i9-11900K CPU are able to churn out an FPS in games which only one or two other gaming laptops can match. If you're also interested in using the machine for non-gaming purposes any rendering workflows will be blitzed through at quick pace.
The 1440p/QHD version of this ASUS gaming laptop has a 165Hz refresh rate as well as a grey-to-grey response time of about 4.8ms (when overdrive is enabled), meaning you shouldn't see any ghosting on screen no matter how fast the gameplay. Importantly this version also comes with a MUX switch, allowing you to disable Optimus and unlock significantly more FPS performance, and also comes with G-Sync. Although the 4K version has a similarly high response time, its lower 120Hz refresh rate and lack of all these other features means for a pure gaming machine we can't recommend it over the QHD display.
The color gamut of the 1440p display stretches to around 99% sRGB, 85% Adobe RGB, and 94% DCI-P3; making it suitable for color accurate work in the sRGB space, possibly also the DCI-P3 space at a push. For gaming, these results are more than good enough. The peak brightness of the Zephyrus S17 is quite impressive, and the contrast is good too.
The Zephyrus S17 has an unusual raised keyboard which is designed to improve the typing angle for your hands but more importantly allow for greater airflow to improve cooling when the laptop is under stress. It has optomechanical switches which are nicely responsive and satisfying to use. Whilst the keyboard angle takes a bit of getting used to, it is an improvement in our opinion over the standard flat board. Additionally the design does seem effective in helping to reduce thermal throttling when gaming, ensuring maximum FPS performance. The trackpad of the S17 is also to a good standard.
Despite having a 17-inch screen, powerful internal components, and effective cooling, this ASUS gaming laptop is remarkably slim and lightweight. It weighs around 6.21lb / 2.82kg without the power brick, which is itself fairly heavy as you'd expect. You will get a decent battery life of around 5 hours of non-gaming usage and the onboard software is of a good standard, allowing for impressively granular control of fan speed. The webcam and in-built microphone are about average for a gaming laptop, which is to say not great, and this is something we would have liked to have seen improved, given the price and overall quality of this machine.
Everything considered, this is a superb high-end gaming laptop from ASUS, and the only major reason you should not buy it is if it's out of your price range.