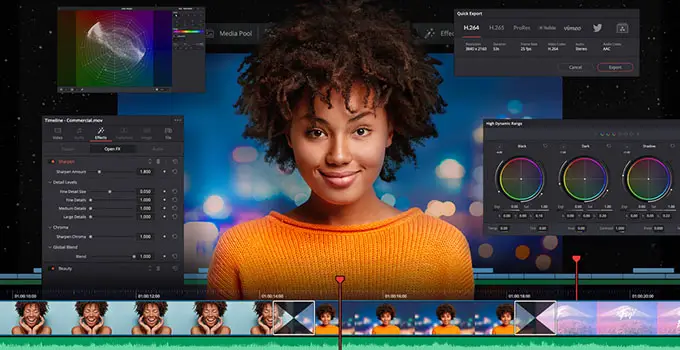 Just two days ago, Adobe announced the integration of the cloud collaboration platform Frame.io into Creative Cloud. The update is sure to make Creative Cloud not only a great value with this free update but also a powerhouse in online collaboration.
Not to be outdone though, Blackmagic is poised to go head to head with Adobe with a cloud collaboration platform of their own, and they're doing it right before NAB with the ever more powerful DaVinci Resolve.
On April 18/19th, Blackmagic will be holding an online event that will showcase an update to DaVinci Resolve, that will incorporate new "online collaboration tools" and the latest in post-production. That sure sounds like a shot across Adobe's bow to me.
Not much else is known about the update, but it's a good bet that the update could be part of the DaVinci Resolve 18 launch and not a dot upgrade. Furthermore, you can bet there will be several new product updates. I'm holding out for an 8K Pocket Cinema Camera, but that's just me.
The online presentation will take place according to the following schedule:
April 18th, 2022 (Monday)
Los Angeles – 10 AM PDT
New York – 1PM EDT
London – 6PM BST
Europe – 7PM CEST
April 19th, 2022 (Tuesday)
Singapore – 1AM SGT
Tokyo – 2AM JST
Sydney – 3AM AEST
The live stream for DaVinci Resolve Cloud can be viewed either through the Blackmagic Design website or their YouTube channel.
[source: Blackmagic Design]