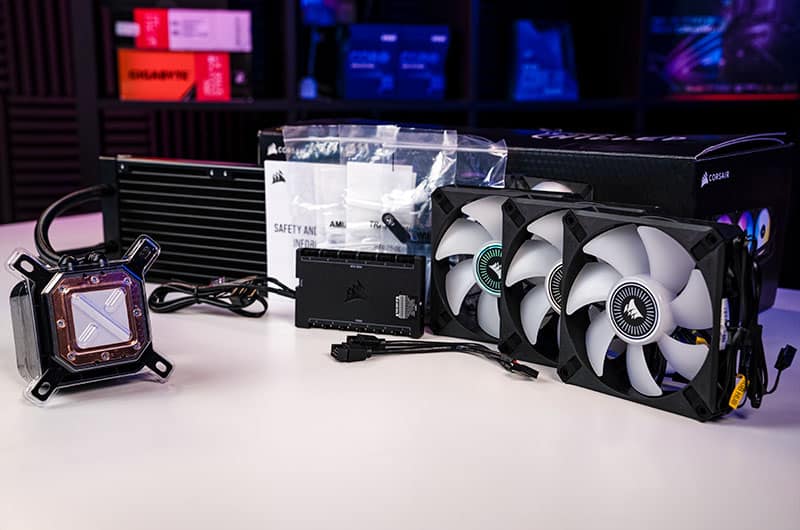 Design
You don't always want to start a review with the coolest thing, so we're starting with the hottest, the radiator, in this case, an aluminum monster measuring 397mm x 120mm x 27mm. The design is comparable to every standard matte black radiator we've seen and there's no real swanky way to make a radiator. If it ain't broke, don't fix it.
You can see a small mirrored Corsair logo in the center of the left and right side of the radiator, a nice little touch that isn't too distracting from the radiator's stealthy demeanor.
The H150i ELITE's tubes are braided with black fabric, rigid but not excessively so, and feature matte black aluminum cuffs at both ends to ensure durability. The right-angle couplers that connect the tubes to the CPU block swivel with ease, about 120 degrees vertically. The tubes are also flexible enough to bend into submission when faced with difficult installation scenarios, as is the case sometimes.
The CPU block is undeniably the pièce de resistance of the H150i ELITE LCD. But firstly, let's take a look at what's under the hood, or, screen in this case.
Even under the LCD screen, this CPU block looks like it means business, and it definitely possesses the technology to back it up. The brains at Corsair have managed to engineer a pump that can push a whopping 0.87L of liquid per minute, all while generating less than 20dBA – just for comparison, a careless whisper (not the song that's much louder) is about 30dB. Achieving unparalleled cooling performance without a headache-inducing whirr emanating from your PC – that's a big win in our book.
Encompassing the pump is the block itself, a sleek black cube that you don't see much of because of the LCD screen (we'll get to that in a minute). The block holds 10 silver screws (four of which are for the LCD screen to sit on) and we're confident about the construction quality.
It's interesting to see that the H150i ELITE LCD has the exact same plate connector as other earlier Capillex models, and this is how the LCD screen gets its RGB instructions from ICUE. But not power – power is handled by an acceptably lengthy internal USB cable, as the LCD screen will definitely draw way more power than you would want to route through a fan hub.
With the H150i ELITE LCD having the same plate connector as earlier Capillex models you can even purchase an upgrade kit for around £89, that turns your old Capillex AIO CPU cooler into one LCD-toting badass bit of kit.
Okay, enough beating around the bush, here's the prize, the 2.1-inch IPS LCD display. Whether you wish to showcase CPU temps, liquid temps or your funniest meme in the form of an image or animated GIF, this 480 X 480 ultra-bright LCD screen has you covered. The very fact that Corsair encourages you to display memes on your top-of-the-line CPU cooler is brilliant.
Corsair ICUE is the pinnacle of RGB software, allowing for almost infinite RGB customization for fans, RAM, mice, and anything else Corsair you may be lucky enough to possess. But it's not just RGB we have to customize today, but a whole LCD sensor panel and ICUE has you covered.
There's a whole host of 'screen types' preconfigured by Corsair all ready to go for you, and we'll get into them in the 'features' section of the review later.
Corsair has bestowed upon us a new ship in its impressive fleet of components, the ML RGB ELITE Series Fan, coming in both 120 and 140mm sizes, boasting a 2000 ± 10% RPM and an airflow rating of 14.86 – 58.10 CFM (Cubic Feet Per Minute) for the 120mm model, which we happen to possess currently. Corsair continues the Magnetic Levitation legacy with the ML RGB ELITEs promising low noise and maximum performance on the 'MagLev' bearing we love so much. The sleek black fans additionally boast eight individually addressable RGB LEDs ready to set the competition alight.
Corsair's Commander Core is both a PWM controller and an RGB controller. The Commander Core is the standard fan controller shipped with most Corsair AIO CPU Coolers. It is constructed incredibly well and looks the part, matte black and featuring a black corsair logo dominating front and center, with handy markings and numbers in contrasting white to clearly mark the port's intended purposes – six fan ports, six RGB ports, one temp port, and one block port. How much more connectivity do you need?
When you're tasked with determining the quality of a product, there's one key area you should examine. Cables… always check the cables. This is where most brands cheap out in order to cut costs, but not Corsair. Corsair's cables are of an exceptional quality. They feel sturdy, look clean, and are braided for that extra durability and visual appeal.