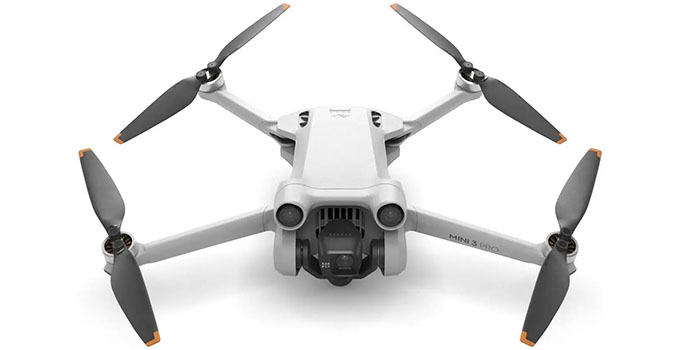 DJI has recently issued a firmware update for the Mini 3 Pro Drone to expand its capabilities, especially with its Vertical Video mode. Through a combination of firmware releases and an update to the DJI Fly app, drone pilots can now take full advantage of the vertical camera position with hyperlapse clips and Quickshots.
The camera on the Mini 3 Pro is unique because it is able to turn on its side in order to capture in portrait mode, also known as "vertical video." This aspect ratio is very popular with mobile-centric apps such as TikTok, Instagram, and other social media portals.
Through v1.68 of the DJI Fly app, drone pilots can now use DJI's Quickshots feature in portrait mode and capture automatic special video clips like the "dronie," which is a selfie from the hovering drone itself, the "rocket," which is taking off away from the subject like a rocket, as the camera records what it is tracking below, or the "boomerang," which is zooming in and out.
Other quick shot modes include a circular capture of the subject, as the camera tracks them from on high, and the "Helix," where the drone flies up and away while circling around the subject.
The other new feature for the Mini 3 Pro Drone now unlocked is Hyperlapse. Hyperlapse is the process of capturing frames at 2-second shutter intervals, to create a 30-second clip while the drone flies along a set path.
The amount of the clip can also cover up to 25 minutes of flight time, capturing at intervals that enable it to create a moving time-lapse, all in both landscape and portrait modes.
The update to the Mini 3 Pro Drone also fixes an issue that caused a flicker in D-Cine, as well as increases the dynamic range and improves the overall stability while shooting in Hyperlapse. Other fixes include:
Resolved false prompt issue when activating intelligent flight modes in Portrait orientation.
Increased camera speed when taking photos.
Optimized image quality of recordings at night in D-Cinelike.
Optimized the anti-interference ability and the transmission distance of the image transmission system.
Optimized the correctness of the battery level indicators on the DJI RC-N1 remote controller.
Optimized battery load management when flying in environments with strong winds.
The DJI Mini 3 Pro is just now beginning to ship to those who have preordered the new drone, and users are advised to update to the firmware version v01.00.0201 for the drone, v04.14.0221 and v01.01.0000 for the RC-N1 and DJI RC remotes, and v1.68 for the DJI Fly app.
Those updates can be found at the DJI Support site for the firmware, and in the iOS and Google Play app stores for the DJI Fly app. Once updated, the new Quickshot and Hyperlapse modes will be activated in portrait or vertical video mode. Users can use the app to install the updates.
[source: DJI]
Order Links: