Last Updated:
One of the most popular facets of the Halo franchise is the campaign, with its iconic weapons, armor, characters, and worlds. Throughout the franchise long history, one of the characters we have learned to love is the Arbiter, who played both an antagonist and protagonist depending on which game was on.
For the most part, the Arbiter has been a key figure in the franchise, and many want to see what he is up to. It was a thing for the game ever since Halo 1-3, along with his appearance in the Halo 5 Guardians story, so many players are invested in him. If you're one of those left wondering where is the Arbiter in Halo Infinite, it seems he is not present in the game. However, there is a Halo Infinite Arbiter easter egg you can find.
Read More: Is Spartan Locke in Halo Infinite?
Halo Infinite Arbiter Easter Egg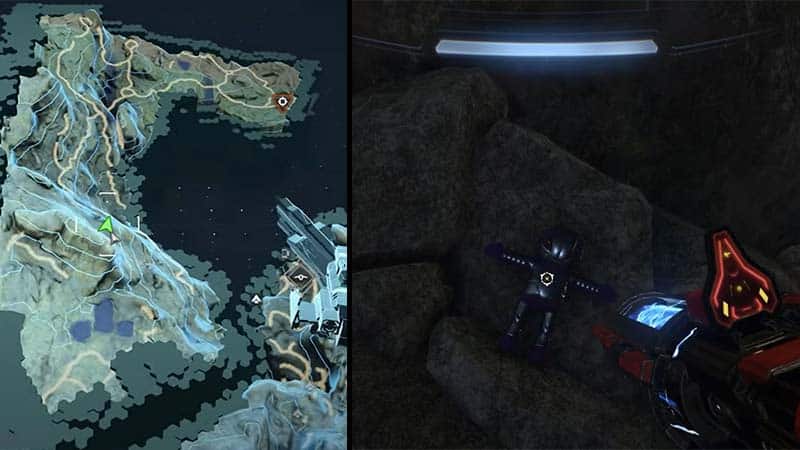 While there is no actual appearance of the Arbiter on Halo, you can find an easter egg of him in-game. If you head to the very north of the map, you can find the Halo Infinite Arbiter easter egg. In a cave, you can find a plushie of the Arbiter chilling in a rock. It doesn't do anything, but it is a fun thing to check out.
Fun fact, there is a Master Chief plushie too, which you can find in the below image.
Halo Infinite Arbiter: Why is the Arbiter not in Halo Infinite
As it stands, there seem to be little to no reference of the Arbiter in the game. There seems to be no information of the Arbiter in the game, due to the lack of a covenant presence in Zeta Halo. Ever science the Covenant and Humanity made peace with each other, the Arbiter hasn't had much of a role to play. It is largely why the Arbiter hasn't had much of a presence in the series since Halo 3. As we already know, the Arbiter never made a physical appearance in Halo 4, and he only made a brief appearance as a supporting character in Halo 5: Guardians.
Since the war with the Covenant is over, and the Arbiter remains a ceremonial place amongst the Covenant Empire, it is unlikely, they will get involved with UNSC affairs, unless necessary, hence the reason why there is no presence of the Arbiter on Halo Infinite.