Last Updated:
Some games are made to be played, others are made to be an experience, there there are those that are simply the embodiment of… cozy. Games you don't have to worry about, there's no big grand fight at the end, nor is there a time limit to accomplish a great quest. These are the games that really let you take a moment to breathe. Stardew Valley is – as you can tell considering this article's title – one of those games.
Even looking at it, just invokes feelings of comfort. The music takes you away and within moments you're no longer in your real-world, instead you're on your digital grandpa's farm you've inherited in the quaint little Stardew Valley. There are the Stardew veterans among us who've played countless hours on different and new farms. There are those who spill hours and love into a single farm, then there are those who hop in and out when the feeling hits them.
Well, Stardew Valley is such a simple little pixel game. And considering it's popularity, it's no surprise that there is an active community. A community of artists and creatives, and those who've taken time to even mod the game. Stardew Valley Mods are all over, those that better the overall game, those that change character appearance, those that even add new mechanics to the game. Some players might not like the generic pixel-style we start off. Or they feel like it's a bit lacking. Well for PC Stardew Valley players, we've gathered some of the best cosmetic-only Stardew Valley mods.
These mods are – sadly – only available for PC players. Furthermore, these mods we've listed here are only cosmetic ones. So they'll change the overall look of your game, or only change certain small parts. These mods won't affect gameplay or mechanics or story in any way.
Fashion Sense
We'll start off easy, this mod adds a variety of new clothing items, new hairstyles and all the more new things to change your sprite's appearance! It adds new hair, accessories, hats, shirts, pants and sleeves. As well as animations to some hairstyles, making it feel as though you're really moving through the world and you're not just a static sprite.
You can download the Fashion Sense Stardew Valley Mod here.
Elle's Seasonal Buildings
This mod adds a series of seasonal replacements for all the buildings on your farm. And it also includes recolours for old buildings.
Among these changes are also:
– Multiple options for every farm building, including the Wizard
– Configurable wall colors for your farmhouse exterior (only affects upgraded farmhouses)
– Optional holiday/festival decor for your farmhouse and cabin exteriors
– Optional fence, shipping bin, mailbox, and fish pond recolors
– Ability to disable any building retexture in the config
– Seasonal overlays (ie grass, leaves, snow) that match the map mod that corresponds to each palette
You can download Elle's Seasonal Buildings mod here.
Seasonal Outfits – Slightly Cuter Aesthetic
This mod changes the sprites of the various characters around town. They'll be dressed in more weather-appropriate garbs. No longer will Shane be out in his shorts in the middle of snowy-winter. All of the different characters will be dressed in different clothes depending on the season, and even the event! So if you want to change the norm, check out this mod!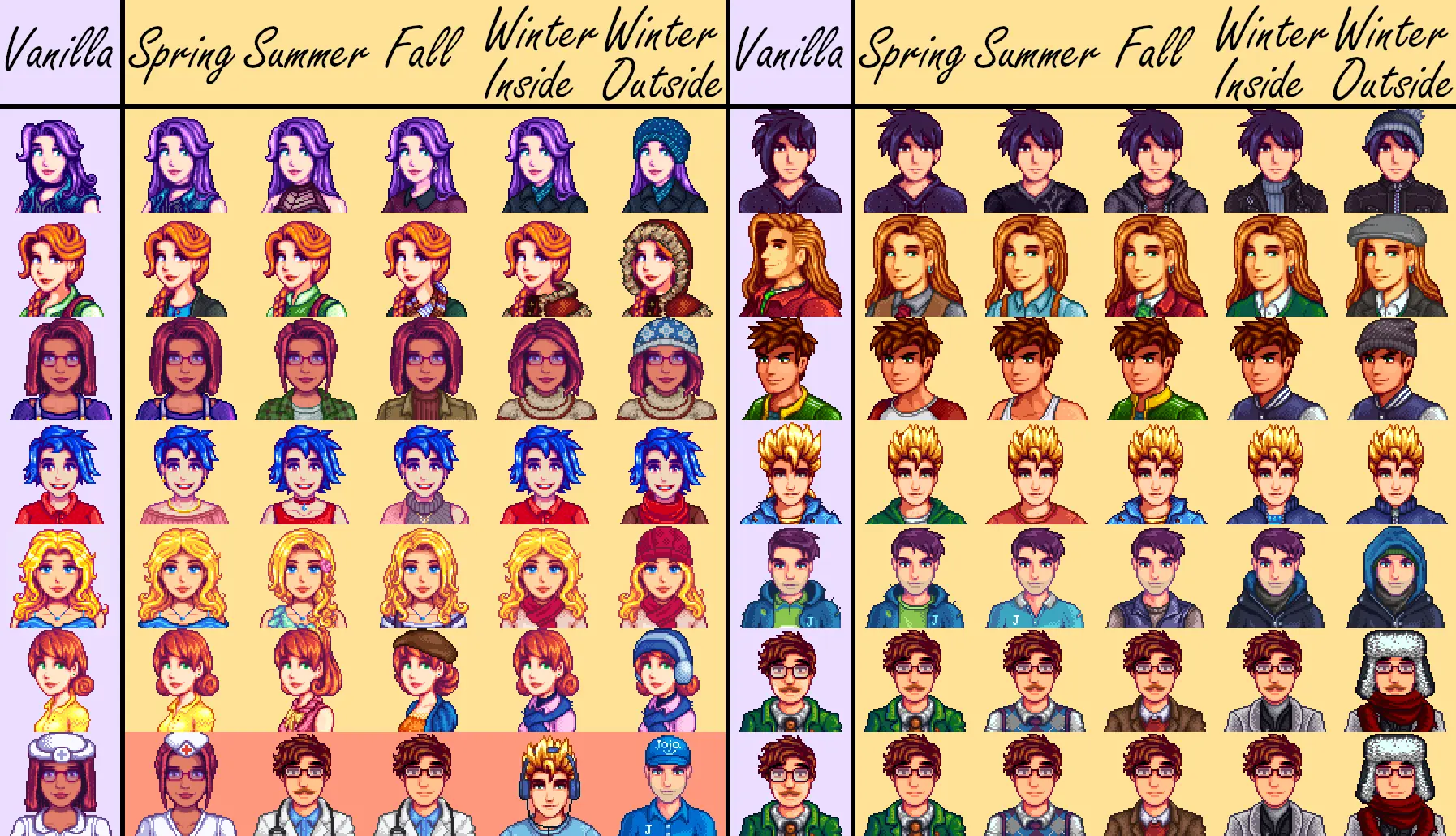 You can download the Seasonal Outfits – Slightly Cuter Aesthetic mod here.
Elle's Animals for Alternative Textures
Gotten a bit bored of all your animals looking the same? Don't worry, they won't know… But yeah, you're limited to a very small number of options when it comes to your animals' colour palette. Well that's where this mod comes in, it adds a great deal of variety to your farm animals.
All you need to do is use a pair of 'scissors' in this mod and you can change your animals' appearances.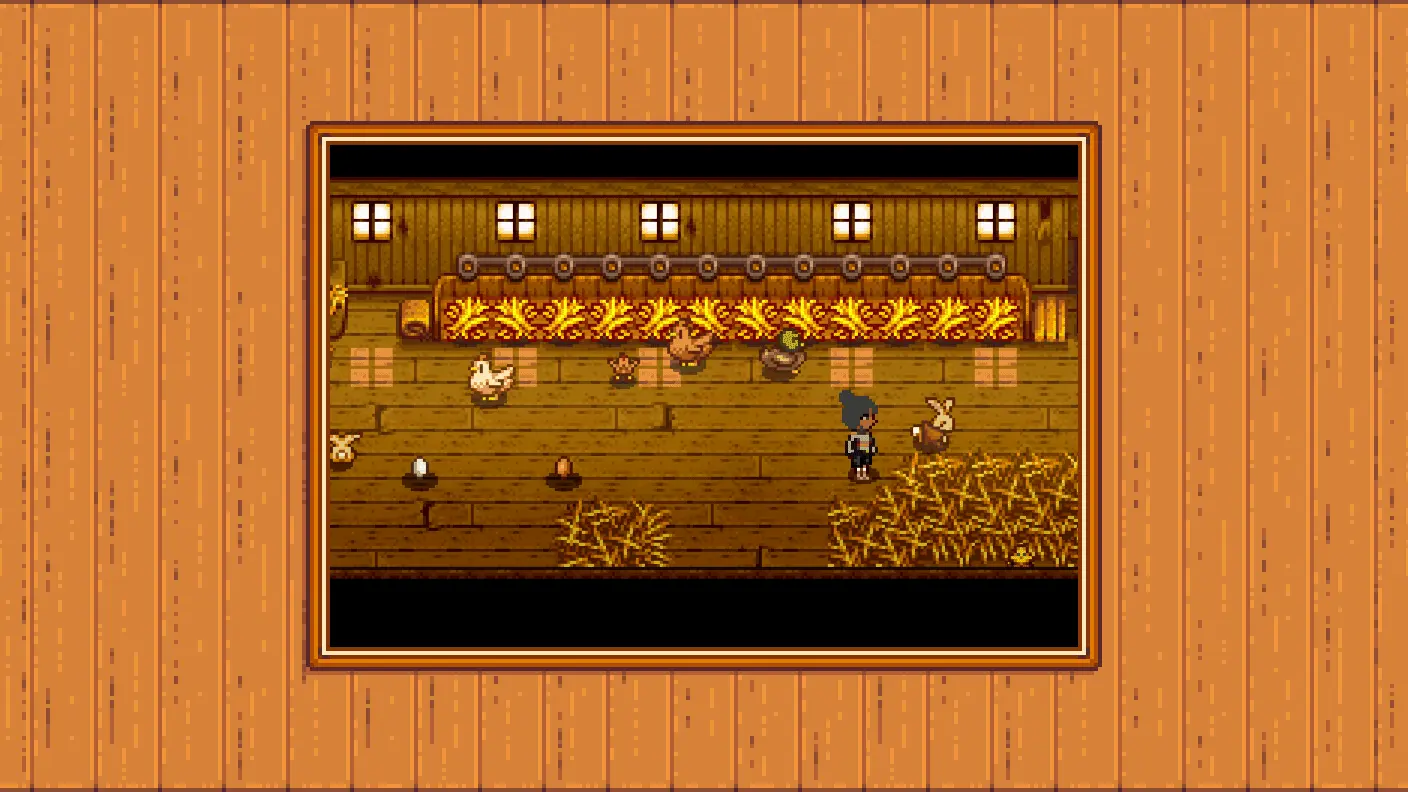 You can download Elle's Animals for Alternative Textures here
That's just some of many Stardew Valley Mods but we thought we'd show you some of the best! You can check out more on Nexus Mods here.